Matabei Gotō



Name

Matabei Gotō

Gender

Female

Weapon

Yari

Small Tantō

No information
Matabei Gotō is Yukimura Sanada's bodyguard and loyal samurai. She and Yukimura sneak into the Yagyu Dojo to warn of the dark forthcoming. She currently does not have a master samurai and finds it to be wrong to forcefully make a pact with Muneakira. Her weapon is a spear and can also use a small tantō that she dons as a hair accessory. In her Master Samurai mode, her weapon is a large calligraphy brush with a retractable blade. She loves cooking, hot baths, and cleaning laundry. She has very large breasts and is most often seen in an revealing underwear that shows off her buttocks. Jubei's nickname for Matabei is "Beta-san".
Powers & Abilities
Edit
She possess a superhuman sense of smell. She later becomes Muneakira's sixth Master Samurai. In Master Samurai mode, her weapon becomes a giant calligraphy brush with a retractable spear head.
Image Gallery
Edit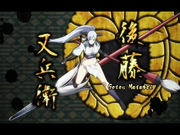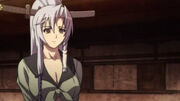 Ad blocker interference detected!
Wikia is a free-to-use site that makes money from advertising. We have a modified experience for viewers using ad blockers

Wikia is not accessible if you've made further modifications. Remove the custom ad blocker rule(s) and the page will load as expected.