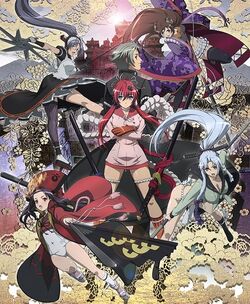 Hyakka Ryōran Samurai Girls (Samurai Girls) is an anime series loosely based on the Sengoku period of Japan, despite being set in the present day.
Samurai Girls began serialization in Monthly Hobby Japan and first volume was released by Hobby Japan on March 1, 2009 under their HJ Bunko imprint; as of October 1, 2010, six volumes have been released.
An anime adaptation produced by ARMS has been announced on the fourth volume of the light novels. An advanced broadcast of the first episode was aired on September 4, 2010. Anime Network is simulasting the series on their video portal.
Hobby Japan is planning to release the light novels in North America in the near future.
Ad blocker interference detected!
Wikia is a free-to-use site that makes money from advertising. We have a modified experience for viewers using ad blockers

Wikia is not accessible if you've made further modifications. Remove the custom ad blocker rule(s) and the page will load as expected.